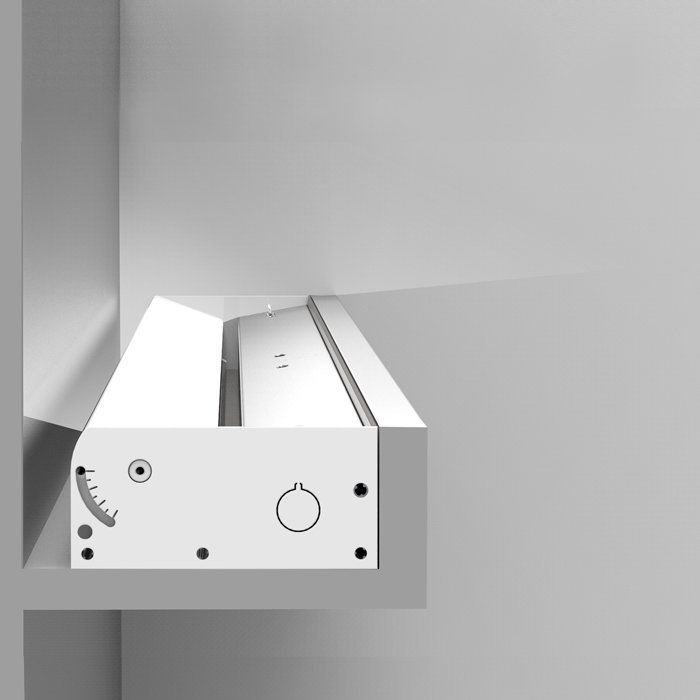 ALCove: smooth and efficient cove lighting
ALCove LED is a compact, high-performance luminaire providing efficient asymmetric light distribution. With peak intensity at 110 degrees, adjustable optics, light output from 350 to 1200 lumens per foot, and outstanding efficacy up to 122 LPW, ALCove delivers very smooth and effective ceiling illumination.
Highly flexible, ALCove can be installed as individual luminaires or in continuous runs with quick-connect wiring. Driver and LED boards are accessible without removing the luminaire. ALCove offers a range of dimming, emergency, and electrical options.
ALCove, just 1 ¾" high, can be installed in site-built architectural coves as narrow as 4 ½". Alternatively, use ALCove Ramp, which provides its own, attractive enclosure and eliminates the need for separate detailing and construction.
When you assess all aspects of an LED cove luminaire, we think you will agree that the LumenWerx ALCove and ALCove Ramp are superior to the competition in terms of size, beam quality, efficacy, and capability. Add in our commitment to customer satisfaction and you have a truly leading lighting product.