CURA

Direct/Indirect
Cura offers multi-function lighting with ambient, exam, reading, and night light illumination from the bedhead. Each lighting function can satisfy the illuminance recommendations of ANSI-IES RP29-16. Optional BIOS SkyBlue™ technology provides a biologically optimized light spectrum that supports both circadian stimulus and visual diagnosis. Cura's compact and durable form, combined with multiple light sources and control options, makes this luminaire particularly well suited to today's healthcare patient rooms. Cura is also available with ChromaWerx DUO and SOLA capability.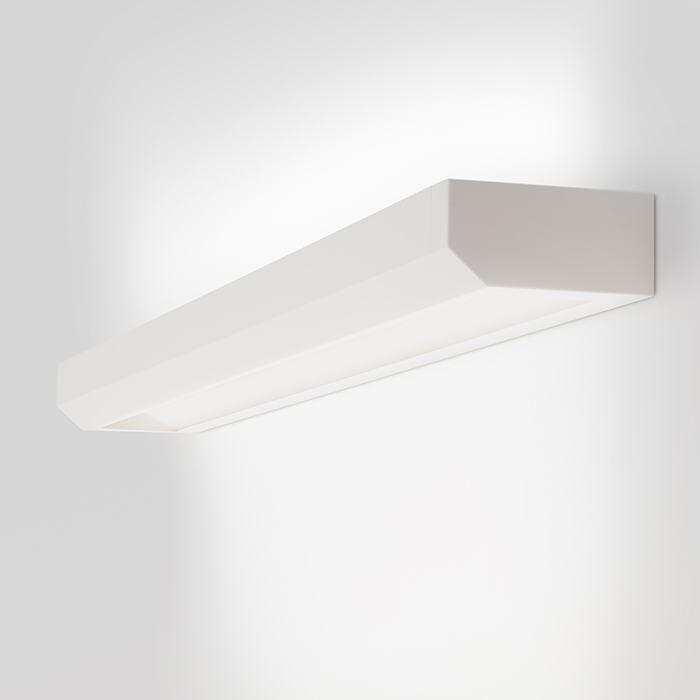 Cura Wall
SPECIFICATIONS
SIZE: 5" x 2 25/32"
LIGHT SOURCE: LED
CHROMATICITY: STATIC WHITE, FULL SPECTRUM, SOLA CHROMAWERX, DUO CHROMAWERX
LIGHT DISTRIBUTION: DIRECT/INDIRECT
MOUNTING: WALL
CHROMAWERX
ChromaWerx Sola is single-channel control that dims output while warming the color temperature in a pre-determined relationship. A simple digital or analog control sends a common signal to dual output digital drivers, which are programmed to adjust a specially populated LED array to emulate the effect of dimming a filament source. Dimming range is programmable but the default option runs from 3500K at 100% of full power to 2200K at 5% of full power. CRI is maintained above 80 throughout the dimming range.
ChromaWerx Duo is two-channel control. It uses analog or digital protocols for synchronous control of both warm and cool LED arrays, enabling the user to set color temperature and light output. Commonly called "tunable white", ChromaWerx two-channel control provides the range of warm (2700K) to cool (6500K) color that can be useful for helping to entrain circadian rhythms, stimulate alertness for improved educational and work productivity, and compensate for jet lag, among other applications. The ChromaWerx drivers are programmed to limit maximum light output and power usage across all color temperatures. CRI is maintained above 80.