CLUSTER PARABOLIC

Downlight
Clusters recessed parabolic downlights include linear downlights, planar downlights, and linear adjustable, all in various cell configurations. Downlights offer a choice of soft- and sharp-edge optics, multiple beam spreads and subtle aperture treatments. Nominal light output is 200 lumens per cell at over 85 LPW; total output ranges up to 1800 lumens in a linear configuration and to 5000 lumens for the largest array. Recessed Clusters can install in a variety of ceiling types and materials, with either an integral driver or a remote driver that is capable of powering multiple luminaires.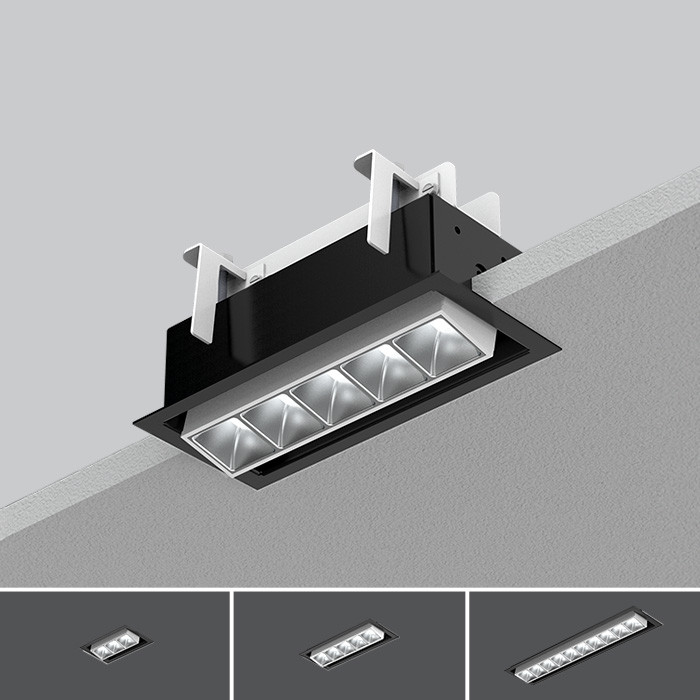 Recessed Parabolic Adjustable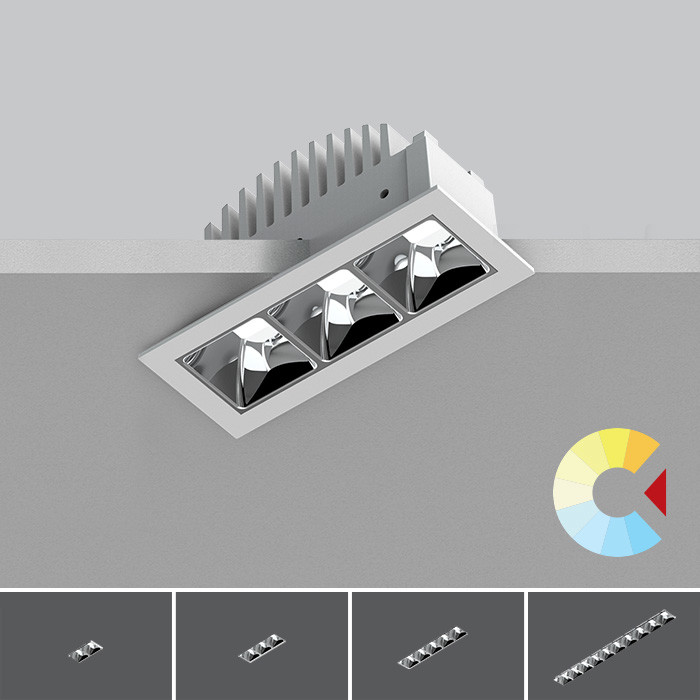 Recessed Parabolic Linear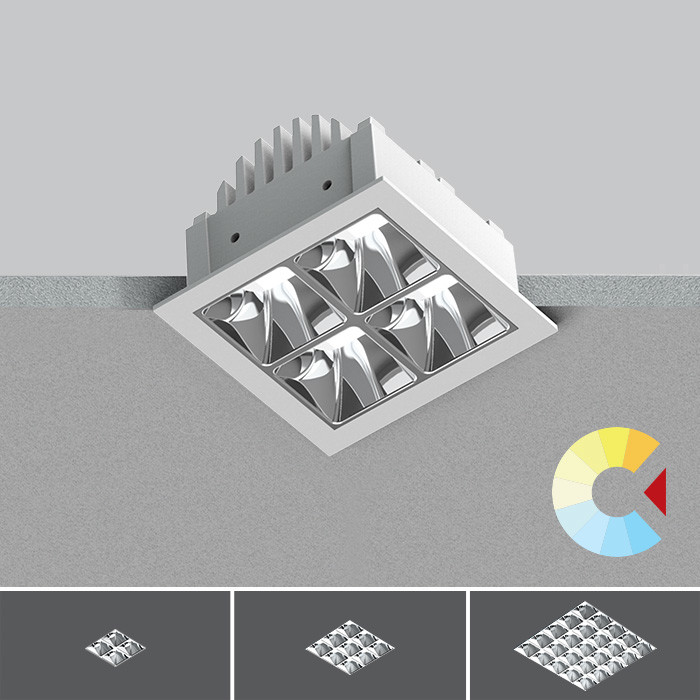 Recessed Parabolic Planar
SPECIFICATIONS
SIZE: 1X1, 1X2, 1X3, 1X5, 1X10, 2X2
LIGHT SOURCE: LED
LIGHT DISTRIBUTION: DIRECT
CLUSTER TYPE: CLUSTER LINEAR, CLUSTER PLANAR, CLUSTER ADJUSTABLE
CHROMATICITY: STATIC WHITE, SOLA CHROMAWERX, DUO CHROMAWERX
MOUNTING: DOWNLIGHTS, RECESSED
COLOR TEMPERATURE: 2700k, 3000k, 3500k, 4000k
CLUSTER DOWNLIGHTS: CLUSTER PARABOLIC
OPTICS: BPL, MPL, SPL, WPL
OPTICS - PARABOLIC
Parabolic Louvers (SPL, MPL, WPL, BPL) - Parabolic louver optics provide excellent shielding and a pleasing crisp visual texture. The parabolic contour of the blades and side reflectors direct light into a comfortable downlight distribution, while minimizing shadows from the LED array above each cell. Four finishes are available. Specular Aluminum (SPL), Matte Aluminum (MPL), Matte White (WPL) and Matte Black (BPL).
CHROMAWERX
Chromawerx Sola is single-channel control that dims output while warming the color temperature in a pre-determined relationship. A simple digital or analog control sends a common signal to dual output digital drivers, which are programmed to adjust a specially populated LED array to emulate the effect of dimming a filament source. Dimming range is programmable but the default option runs from 3500K at 100% of full power to 2700K at 5% of full power. CRI is maintained above 80 throughout the dimming range.
Chromawerx Duo is two-channel control. It uses analog or digital protocols for synchronous control of both warm and cool LED arrays, enabling the user to set color temperature and light output. Commonly called "tunable white", Chromawerx two-channel control provides the range of warm (2700K) to cool (6500K) color that can be useful for helping to entrain circadian rhythms, stimulate alertness for improved educational and work productivity, and compensate for jet lag, among other applications. The Chromawerx drivers are programmed to limit maximum light output and power usage across all color temperatures. CRI is maintained above 80.
PoE
PoE technology can be integrated into many of Lumenwerx's lighting solutions and product families. For nodes, we always aim for complete integration, but when space is limited, we look for a remote solution that doesn't compromise the design aesthetic. PoE can be integrated into 95% of our product offering, including our Chromawerx solutions. See PoE webpage