The Revo pendant offers a fresh interpretation of a classic shape, both attractive and functional. Just 2 3/8" in diameter, Revo delivers precise and well shielded illumination to task surfaces, such as counters, desks and conference tables. Miniature, low brightness reflectors and onboard MikroDrive™ electronics achieve Revo's small scale. Revo can be used as an individual luminaire or combined into continuous runs. The Miniature Reflector Optic, developed specifically for the Revo pendant, creates intriguing visual texture as well as very comfortable brightness. Designed in collaboration with Gensler.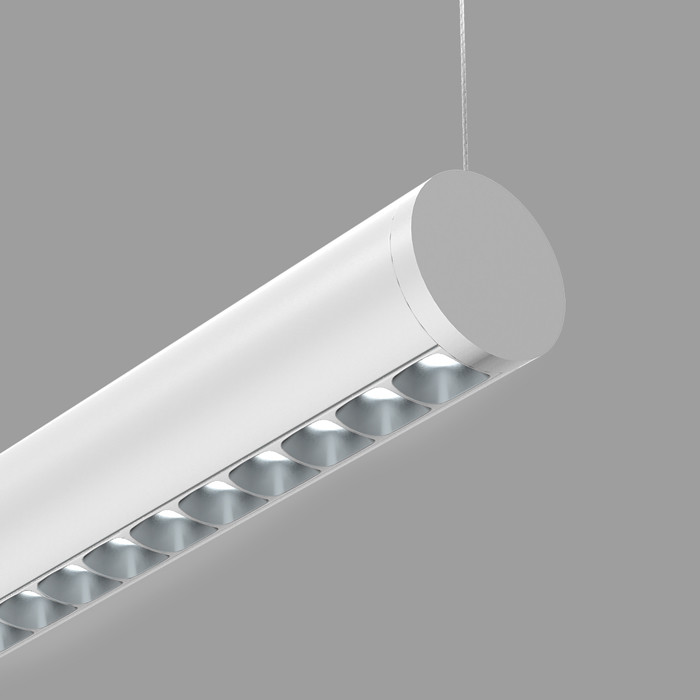 Pendant
SPECIFICATIONS
SIZE: 2 3/8" diameter
LIGHT SOURCE: LED
CHROMATICITY: STATIC WHITE, FULL SPECTRUM
COLOR TEMPERATURE: 2700k, 3000k, 3500k, 4000k
LIGHT DISTRIBUTION: DIRECT/INDIRECT
MOUNTING: PENDANT
OPTICS: MRO
OPTICS
Miniature Reflector Optics (MRO) - The LumenWerx Miniature Reflector Optic (MRO) locates an individual, precisely molded TIR elements over each LED emitter, and further shield the source with precise parabolic reflectors.
Unlike typical diffuser and prismatic optics, MRO offers a choice of narrow, medium, and wide downlight beams. The downlight MRO can be paired with a simple uplight optic, creating a comfortable and distinctive direct/indirect luminaire with a total of six light distribution options.
MRO
PoE
PoE technology can be integrated into many of Lumenwerx's lighting solutions and product families. For nodes, we always aim for complete integration, but when space is limited, we look for a remote solution that doesn't compromise the design aesthetic. PoE can be integrated into 95% of our product offering, including our Chromawerx solutions. See PoE webpage