VIA 4

Direct, Indirect, Direct/Indirect, Flush and Wall Wash
Our elegant, flexible Via family is composed of linear, pendant, surface, recessed, and wall mounted luminaires, each of which can be installed as a discrete lighting fixture or in continuous runs or patterns. Asymmetric, widespread, low-glare, and wall wash optic options allow for precise distribution and exceptional light quality for a wide range of applications.
Recessed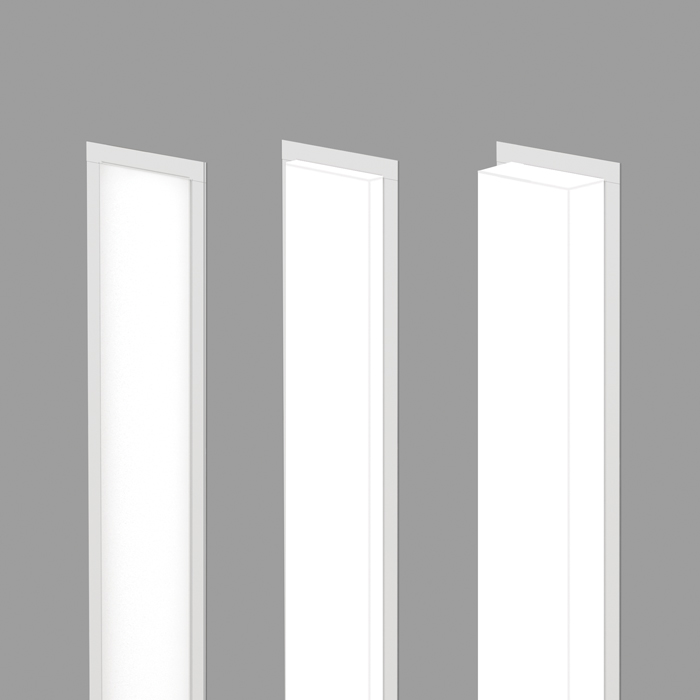 Recessed Vertical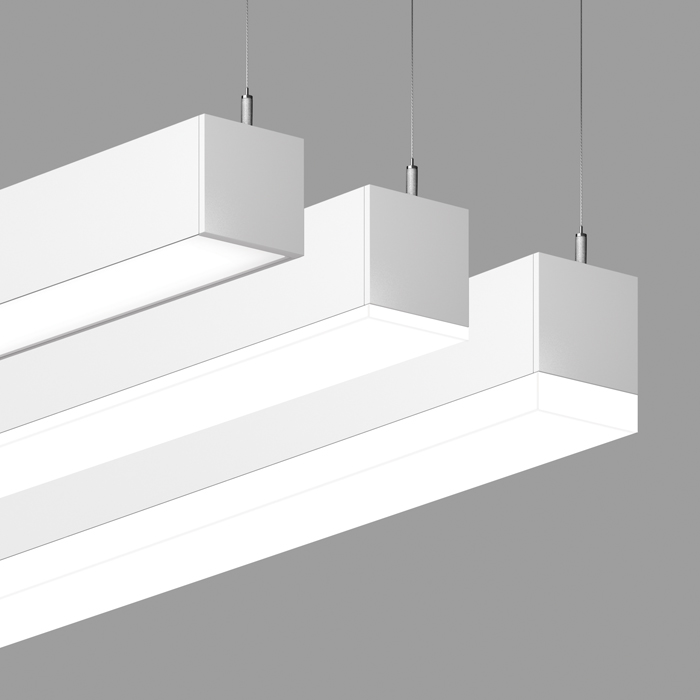 Pendant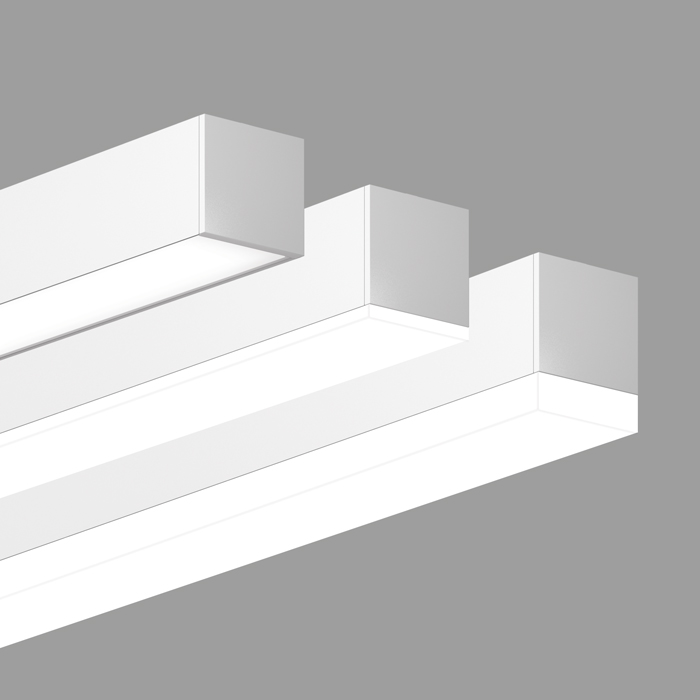 Surface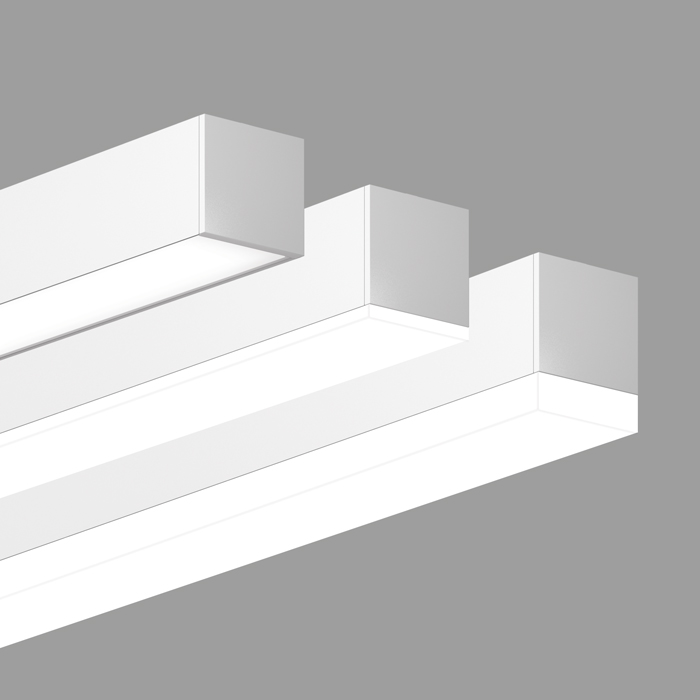 Wall
SPECIFICATIONS
SIZE: 4 1/32" x 3 3/4" - 4 1/32" x 4 1/4" - 4 1/32" x 5 3/8"
LIGHT SOURCE: LED
COLOR TEMPERATURE: 2200k, 2700k, 3000k, 3500k, 4000k, 6500k
CHROMATICITY: STATIC WHITE, SOLA CHROMAWERX, DUO CHROMAWERX, QUADRO CHROMAWERX
LIGHT DISTRIBUTION: DIRECT, INDIRECT, DIRECT/INDIRECT, ASYMMETRIC, WALL WASH, WIDESPREAD
LumenXpress: 10 days
MOUNTING: RECESSED, SURFACE, PENDANT, WALL, WALL-RECESSED
OPTICS: ARO, ARO2, CLO, HLO, LGO, WAI2, WDO, WIO2, WRO2
OPTICS
The High-Efficiency Lambertian Optic (HLO) uses matte white reflectors to distribute LED output across 0.075" acrylic shielding, providing up to 88% transmission and good obscuration. HLO has a spacing criterion of 1.16.
The Asymmetric Refractive Optic (ARO2) uses a sophisticated reflector combined with a matte beam-shaping film to create a smooth, effective downward light component without shadows or hot spots. It provides directional Gaussian light distribution with peak intensity at 20° above nadir and a 55° Full Width at Half Maximum (FWHM) beam angle. Microstructure material applied to the snap-in lens provides the precise refractive power and visual comfort, while achieving high luminous efficacy.
The Wall Wash Refractive Optic (WRO2) delivers smooth vertical illumination with a gentle gradient and soft visual cut-off. Its exacting configuration creates a strong downward light component without shadows or hot spots and provides light distribution with peak intensity at 21° above nadir. Microstructure material applied to the snap-in lens provides the precise refractive power and visual comfort, while achieving a high luminous efficacy.
The Widespread Direct Optic (WDO) is designed to distribute light far and wide. As such, it has an excellent luminous efficacy, a light span that is 40% farther than that of our traditional HLO, and it maximizes spacing distance while still creating a sense of uniformity. The lens snaps into place and utilizes nano prismatic optics to mask the diodes that are actually emitting the light.
The Low-Glare Optic (LGO) is designed to cut off high-angled light and control glare. The carefully crafted lens refracts light downward through its center from which it then disperses into a wide conical distribution that negates any illumination at about 40°. The LGO provides the visual comfort of a louver in a smooth acrylic lens.
The Widespread Indirect Optics (WIO2) is a horizontal LED array with a widespread indirect micro prismatic optic that offers an impressive 160° spread. WIO2 creates an even illumination for smooth brightness on the ceiling that can achieve uniformity ratios of up to 2:1.
The Clear Lambertian Optic (CLO) uses a single horizontal LED array and a clear acrylic cover to provide simple uplight with high efficiency.
The Widespread Asymmetric Indirect Optic (WAI2) The Widespread Asymmetric Indirect Optic (WAI2) offers an upward grazing effect with a 45° forward throw. It softly highlights the ceiling in the up-light while distributing the required illumination of the rest of an interior space. For avoiding glare and enjoying visual comfort, WAI2 is an ideal solution.
The Asymmetric Refractive Optic (ARO) combines a matte-finished reflector with a high-transmission diffusing film to control the distribution of light in two ways: 1) on one side, through a modified Lambertian with peak intensity at nadir; and 2) on the other side, through a batwing with peak intensity at 40°. A visor shields luminaire hardware from lateral viewing angles.
PATTERNS
At LumenWerx, we make it simple to design patterns customized for you. Whether surface, wall mount, pendant or recessed - or even a combination of different mounting types, we make it easy to achieve the results you're looking for. While our standard is a 90º corner, we can customize angles to suit your needs.
DOWNLIGHTS
Fixtures with Chip On Board (COB) technology are able to provide a maximum output of 1800 lumens from a discrete 50mm aperture on 8 inch centers. Standard CRI is 80, for 90 and 97 CRI with elevated R9 values please consult factory. Standard 20º, 30º and 40º beam angles are available, as are custom angles with prior factory approval. All our Chip-On-Board products have been tested in accordance with IESNA LM-80-08 and the results have shown L80 lumen maintenance greater than 50,000 hours.
CHROMAWERX
Chromawerx Sola is single-channel control that dims output while warming the color temperature in a pre-determined relationship. A simple digital or analog control sends a common signal to dual output digital drivers, which are programmed to adjust a specially populated LED array to emulate the effect of dimming a filament source. Dimming range is programmable but the default option runs from 3500K at 100% of full power to 2700K at 5% of full power. CRI is maintained above 80 throughout the dimming range.
Chromawerx Duo is two-channel control. It uses analog or digital protocols for synchronous control of both warm and cool LED arrays, enabling the user to set color temperature and light output. Commonly called "tunable white", Chromawerx two-channel control provides the range of warm (2700K) to cool (6500K) color that can be useful for helping to entrain circadian rhythms, stimulate alertness for improved educational and work productivity, and compensate for jet lag, among other applications. The Chromawerx drivers are programmed to limit maximum light output and power usage across all color temperatures. CRI is maintained above 80.
Chromawerx Quadro is a four-channel control that operates an RGBW LED array and addresses the need for more expressive color in architectural applications. The DMX driver supports familiar programming tools for both dynamic multi-hued color and precise white color point control. While a typical user interface will be a DMX controller by others, Lumenwerx also offers a simple control station for stand-alone color changing applications.
PoE
PoE technology can be integrated into many of Lumenwerx's lighting solutions and product families. For nodes, we always aim for complete integration, but when space is limited, we look for a remote solution that doesn't compromise the design aesthetic. PoE can be integrated into 95% of our product offering, including our Chromawerx solutions. See PoE webpage