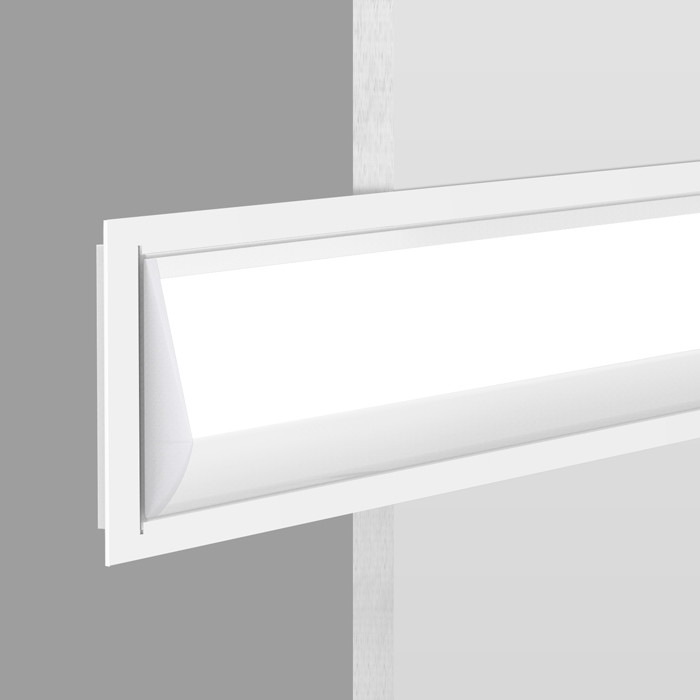 Comfortable and soft lines of light from within the wall, for healthcare, office, and institutional applications
InWalo offers practical illumination from a linear in-wall luminaire. Mounted below eye level, ADA-compliant InWalo provides subtle illumination for circulation areas and night light. Mounted above eye level, InWalo provides comfortable indirect lighting; hospital patient rooms are an ideal application.
Practical Construction
The InWalo housing requires just 5/8″ of mounting depth – the thickness of a common drywall – so the luminaire mounts on top of the wall studs. The driver compartment slides behind the luminaire for totally flexible installation between the wall studs. A removable LED and optical cartridge permits access to the driver without disturbing the drywall/housing connection.
Designed for comfortable illumination in circulation areas, InWalo can be oriented for uplight or downlight. It is a new tool for creative lighting and practical solutions.
The shallow lens projection and 12 degree inclination minimize dust accumulation.
Featuring an asymmetric refractive optic and output up to 1000 lumens per foot, InWalo can be installed as a discrete or continuous linear luminaire and oriented for either uplight or downlight. Our Asymmetric In-wall Optic delivers peak intensity at 140 degrees from horizontal with less than 5% spill light.