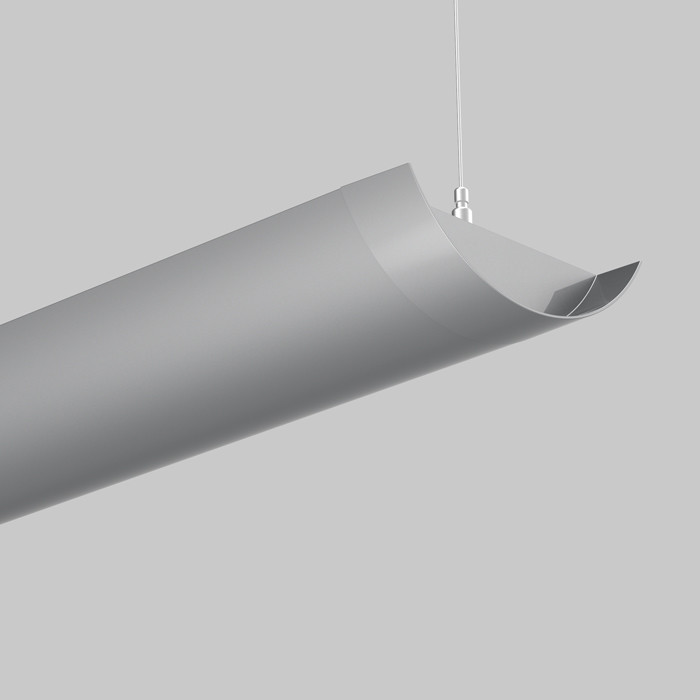 Paz. Classic Style with Widespread Indirect Optics
Paz is a classic form, determined by the simple geometry of the circle and the minimal space needed to accommodate the LED optical and electrical components. This results in the smallest luminaire of its type available today. The knife-edge at the top of the luminaire further minimizes the profile. In addition to compatibility with interior designs that welcome a curved form, Paz fits comfortably into spaces with traditional architectural details, especially where angular or more expressive designs would seem out of place.
We also added features that can dress up Paz's simplicity. You can choose either a regressed or a sloped end cap, both of which emphasize the slender form.
While most similarly shaped (but larger) luminaires use steel, Paz is extruded aluminum. With this construction, we can offer twelve foot modules with modular suspension points, thereby reducing installation cost… and cleans up the ceiling!
The extrusion itself includes a groove along the top that holds our sliding cable suspension, facilitating installation from non-modular locations like those often encountered in renovations of older buildings.
Double stem suspension is not new, but rarely does it look as appropriate as it does with Paz.
Paz uses our Widespread Indirect Optics, which deliver outstanding photometric performance, especially for a luminaire of its size. Two metrics define the uplighting performance: peak intensity at 125 degrees and the peak-to-zenith ratio of 2:1. Together, they indicate the flat batwing distribution that provides smooth ceiling brightness and wide luminaire spacing. Totally indirect lighting can be valuable where user comfort calls for the elimination of all luminaire luminance in the field of view, for example in a treatment center. In other applications, the illuminated ceiling itself commands full attention.
With ChromaWerx, Paz can support tunable white lighting strategies for circadian and wellness design in a variety of applications. Naturally Paz offers our full range of dimming, emergency, and controls options.