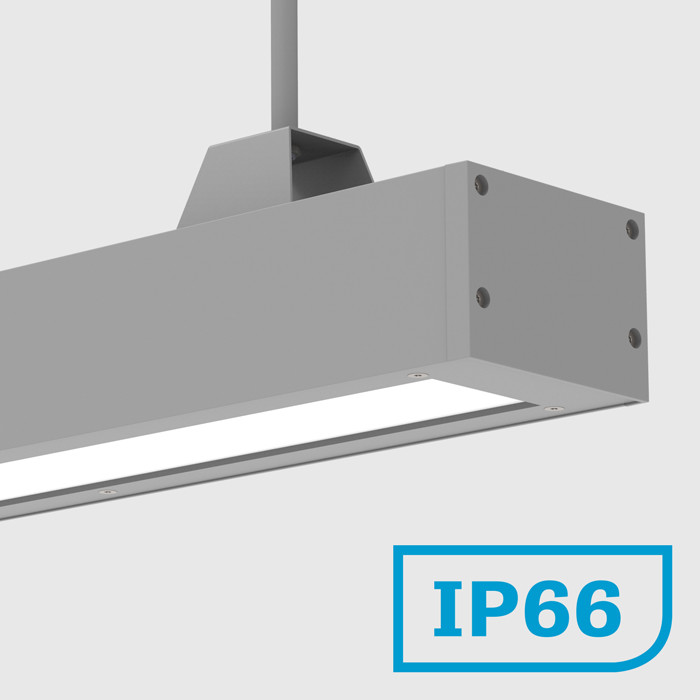 Make Waves With New Via Splash IP66
Via Splash, offers three important enhancements for challenging environments.
Via Splash now features an IP66, ideal for demanding, wet locations in both exterior and interior applications. IP66 means the luminaire is protected against damage from dust and high-pressure jets of water. Compared to IP65, that's over three times the pressure and eight times the volume of water!
The simple 3½" by 5″ housing of extruded aluminum is fully sealed and available in lengths up to 12′, significantly saving on installation costs. Via Splash optics and protective enclosures are provided in lengths up to 4′. A 12′ housing, for example, contains three optic/enclosure elements; a "bridge" between each element assures IP66 protection.
Efficacy is now 126 LPW, over 25% increase from Via Wet. Light output ranges from 500 to 1000 lumens per foot in color temperatures up to 5000K.
Like Via Wet, Via Splash installs in recessed, pendant, ceiling or wall applications, and is suitable for temperatures from -20ºC/-4ºF to 40ºC/104ºF. Protective enclosures include clear tempered glass or clear, UV stabilized polycarbonate. Both can be used with our Precision Micro or High-efficiency Lambertian Optics.
LED arrays and drivers are accessible through the optical chamber and easily replaced. The luminaire can be washed down with strong jets of water.